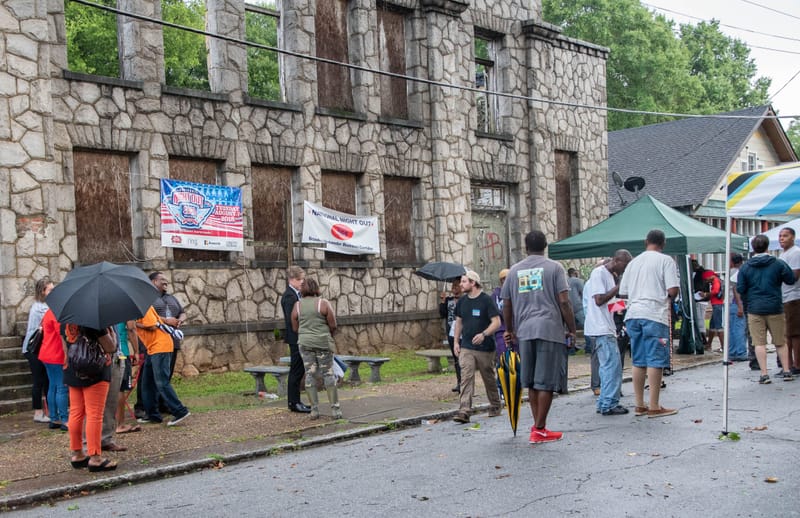 MISSION
The Beloved Community Inc.(TBCI) mission is building healthy and sustainable communities. Its focus in Atlanta is in westside English Avenue. We are implementing the vision for the English Avenue Brawley/Alexander business district as defined in the community's adopted Westside Land Use Framework Plan.
www.westsidefuturefund.org
Atlanta City Council officially adopted the Plan December, 2017. As a partner in the Westside Future Fund Summit, TBCI embraced and promotes the Fund motto BUILDING THE BELOVED COMMUNITY: AN ALTERNAIVE TO GENTRIFICATION,
PARNERSHIPS AND COLLABORATION
In 2017 TBCI launched the community building tool of partnership and collaboration. TBCI members requested and won the commitment of then Mayor Kasim Reed and Commissioner Tim Keane to bring the City Studio to St. Mark, English Avenue. This work led the way to adoption of the National Night Out Project 365. Bringing together a broader base of residents, community partners, businesses, and public agencies TBCI advanced its capacity to build the vision for the Framework Plan Brawley/Alexander business district. TBCI launched It's first National Night Out Project 365 August 7, 2018.
National Night Out is an annual community-building campaign that promotes police-community partnerships and neighborhood camaraderie.
, Historically held nationally on the first Tuesday of August, NNO responded to COVID -19 by shifting the 2020 event to the first Tuesday of October. .In 1994 National Night Out Introduced Project 365. Project 365 is a targeting component of the National Night Out campaign that helps communities identify specific problem areas and then work to resolve these problems over the next 365 days. The project begins on the annual National Night Out celebration ends 365 days later.
TUESDAY, OCTOBER , 2020 - TUESDAY, OCTOBER 5, 2021
SPECIFIC PROJECT AREA: Brawley/Alexander Business Corridor focusing on achievement of the transformation of the corridor as outlined in our Westside Land Use Framework Plan, adopted by Atlanta City Council, December, 2018, . This effort will address the aspect of the plan as defined on Page 64, Objective 1.3m bullet #2; and 1.4. Pages 68-70. The priority focus for 2019-2020 will continue to be on pedestrian safety and area health and cleanliness. This effort will be augmented by Project 365 Partners' arts and culture programming.